In June we saw the overall Derby vacancy rate slightly increase although as the below graph shows still well in front of previous years. At the time of writing there were only 7 properties for lease in Derby which continues to be well below previous years. Ray White continues to lead the market individually with an impressive vacancy rate of only 3.2%
Ray White Broome leased 15 properties for June and welcomed four new owners who entrusted their property with us and whom we are pleased to service.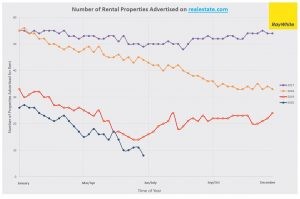 In regards to currently advertised properties we have seen a relatively even spread in configurations with the only noticeable change being an increase in the number of 3 bedroom homes currently advertised.
Number of Bedrooms
Number of Rentals

May

Number of Rentals

June

Overall Price Range
Average Price Range
1
1
1
$175
$175
2
4
0
$220 – $350
$270 – $350
3
10
6
$260 – $350
$260 – $325
4
2
1
$300 – $450
$390 – $400
If you have any questions on the current rental market, or if we can assist you with any of your real estate needs, please feel free to contact the team at Ray White Derby today on 9191 2900.